Thriving in a "Twitter First" World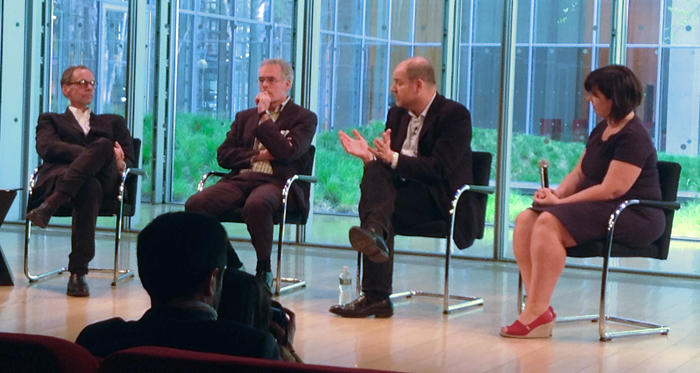 Twitter: Easy, rough and raucous. Journalism: Tough, refined and reflective. Can a marriage of this odd couple endure?
If the answer is "no," it won't be for lack of interest in a meaningful relationship. Attracted by Twitter's rapidly growing hegemony over breaking news, publishers are struggling to thread the social medium's chaotic feeds into legacy media's fabric. The result is a 21st century amalgam, an uneasy alliance in which Tweets and video clips disrupt and enhance their print progenitor.
"We are seeing a fascinating morphing from the traditions of journalism," said Mark Thompson, president and chief executive of The New York Times. "It's broadcasting, but it's different from broadcasting. It's multi media, a real time cooking up and grabbing of lots of diverse textures and experiences. It has a very real time immediacy and urgency, but there's also a lot of character in it."
Twitter first
Thompson presented his analysis during "The Future of News Organizations in an Increasingly Social World," a discussion held during Social Media Summit 2013 sponsored by The New York Times and BBC Academy's College of Journalism. Participants were (pictured left to right) David Carr (moderator), Media Columnist for the New York Times; Peter Horrocks, Director of Global News at the BBC; The New York Times's Thompson; and Janine Gibson, Editor in Chief of Guardian U.S.
The conference was held a day after the April 19 apprehension of the second Boston bombing suspect, the culminating event in what Carr described as "an extraordinary week of domestic news." Media old and new responded to the rapidly developing story with a nervous stutter of cooperation and tension characteristic of the developing communications paradigm. "Sometimes traditional and social media feeds would morph into one another," noted Carr. "And sometimes they would diverge and be in conflict."
What was most apparent from the Boston reporting, though, was that Twitter has taken the lead as the first source of breaking news. "For the first time continuous TV news has come in second," said Thompson. "Now, essentially, Twitter is first."
Assess and enhance
First it may be, but Twitter, in its rush to report, can mislead with rumor as well as fact. "Twitter presents everything on an equivalent basis," noted Horrocks. The danger, of course, is the temptation to rebroadcast a juicy but inaccurate Tweet. Responding to pressures from an eager public and competitive news outlets, reporters can producing copy that harms the public and the media's reputation. "A lot of professional journalists go to Twitter to blame Twitter," said Gibson. "But all the catastrophic things that were wrong in the Boston reporting were done by news organizations failing to report properly. If you apply the right reporting principles to your sources, whether from Twitter or otherwise, you should not get into that much trouble."
Reporters will continually be confronted with the grey area of raw information compelling enough to warrant broadcast but absent sufficient validation. In such cases news organizations can hedge their reporting with appropriate language, employing the equivalent of what Carr called "a digital ten foot pole so you can have it but not be blamed for it."
Hedged or not, news stories will be more authentic when the reporter has taken time for reflection. Here American journalism might learn something from its more careful British counterpart. "We know it's best to wait, not to follow that thing from Twitter right away," said Gibson. "We get our best people and coolest heads running the outfit, and then we say what we can see as clearly as possible."
Successful gatekeeping requires a skill set that differs from that of traditional reportage. "The effect of stream based journalism, the need to compress things and deal with context and atomization, is in many ways more of a challenge than selecting sources and making the right judgments," said Horrocks. "It changes the way you write and package your journalism." The value of such curating is not lost on those flying with the social media flock. "A lot of people on Twitter are saying 'old media is dead,'" said Carr. "But their feeds are full of links to legacy reporting."
Open doors
In the best of cases Twitter becomes more than a valuable source of news feeds. It also enlarges the audience for traditional publishing formats. This is occurring at the BBC where reporters with hot news items are instructed to "text first" and write second. "We changed our policy a year ago from a requirement to break news first in a radio or TV broadcast piece," said Horrocks. "All journalists now file first in text, which is the best way to get information to all of our platforms."
The system is designed so that posts go out concurrently on BBC and individual Twitter timelines. The BBC's audience is increased when timeline readers click URLs which take them to the legacy media's website for stories analyzing the news. "Twitter is absolutely a friend," said Horrocks. "It's totally transforming the kind of journalism we are doing around the world."
Social media can extend a media's brand in even more dramatic ways. "Today with Facebook we are having a conversation with our audience in Burma," said Horrocks. "That hasn't been possible for 40 years. A group of journalists exiled in London has been broadcasting many thousands of miles away with very little information from that country. Now all of a sudden we are able to have a conversation with people there about the country's future."
Building the audience
If social media draw new people to a legacy brand's website, will they stick? "How you go from a first referral from a social environment to a story at nytimes.com, and then keep readers there, drawing them in to take one more story, is the big issue," said Thompson. Part of the answer is encouraging visitors to open a dialog with the text. "We know that people who take the time to comment are more likely than others to become subscribers," said Thompson. "Eighty percent of the people who comment the most are subscribers."
Publishers must also package editorial in a format that exploits the characteristic engagement of reader and device. "If we panned a camera around the audience here we would find that from 30 to 40 percent of people are using smart phones and small laptops," said Thompson. "We need to think about the behaviors that go with these different form factors, then work out the best way to put content in front of people. We need to create really effective, clever, attractive environments which make the best use of the screen and the rest of the device." High quality apps are part of that environment. "You can already feel that people do not want 900 apps, but a smaller number that do what they do excellently," said Thompson.
There is a special challenge in designing appropriately for the idiosyncratic interface of the tablet. "We need to be careful with the tablet," said Thompson. "We have all ended up with rather static, rather beautiful near facsimiles of our print products. Very few news providers are using tablets for what they can do with multimedia, sound and the moving picture."
Such as? One example of what can be done is "Snowfall." Written by John Branch, this report of a Washington state avalanche is, in Thompson's words, "a fantastic mixture of a brilliant piece of text with the dropping in of intense personal experiences in amazing animated graphics."
The bottom line
Visually stimulating. Exciting. Compelling. All of these descriptions apply to the marriage of legacy and social media. But will the partnership succeed in financial terms? There's no doubt that a positive answer will require experimentation. Carr held up his smart phone to illustrate the challenge. "I do not see room here for a business model. It's little. If news becomes a list, I worry that social will become the operating system in a news environment, to the detriment of media brands."
A more sanguine view was offered by the Guardian's Gibson: "I am old enough to remember when our lunch was going to be eaten by the Internet," she said. "That didn't happen. You have to have faith that you are producing something that is brilliant and appropriate to the medium. Then you will figure out how to fund it and scale your costs accordingly."
Photo and story by Phillip M. Perry
May 29, 2013