Fortune Sets Course on "Brands Within a Brand"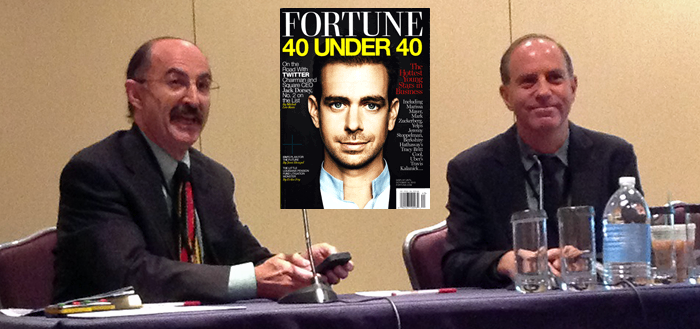 When Fortune managing editor Andy Serwer describes his occupation to an inquisitive taxi driver, the usual reaction is some variation of "oh yes—the Fortune 500." That common refrain testifies to the importance of the magazine's annual compendium of top performing companies—and to that list's high level of recognition in the public imagination. "The Fortune 500 is actually a stronger brand than Fortune," says Serwer.
That top-of-mind presence makes for plenty of opportunity. The magazine's ongoing efforts have made the Fortune 500 theme more than just a tool for raising the profile of the publication in the public mind. As advertisers flock to glow in its aura, the Fortune 500 has become a powerful revenue generator in its own right, an example of what Serwer calls a brand within a brand, or a franchise.
Brand play
If a marketing paradigm works well for one franchise, why not for others? That was the crux of remarks made by Serwer (pictured right) during an interview with Samir A. Husni, (at left) at this year's Publishing Business Conference and Expo, sponsored by Publishing Executive, in New York City.
After all, the Fortune 500 is just the most widely known of the magazine's franchises. Others include the 50 Most Powerful Women, the 100 Best Companies to Work For, the World's Most Admired Companies, and the 40 under 40. When Serwer accepted his current position in 2006 he was determined to transmute those franchises into master gears for the publication's profit machine. "We have 18 issues a year and I want to make sure every issue has one of these franchises," he says.
At first blush, such branding initiatives look similar to the special issues common elsewhere in magazine publishing. A franchise-based issue, after all, attracts advertisers–not only those who want to be close to a particular section but (even better) those who are happy to be anywhere at all in the issue. "That's when you hit the sweet spot," notes Serwer, concerning the arrival of the liberal advertising mindset. "Then you are able to do all kinds of edit."
Triple Play
As vital as it is, though, the print platform is just one of three on which the franchise performs its magic. "We want to blow it out across all our platforms," says Serwer in reference to print, digital and live events. "We drive advertising across all three. When someone is sponsoring one of our live events, for example, we encourage them to buy advertising in the magazine and on the web site as well." (The magazine gets about 25 percent of its revenues from is digital platform; the remainder from print advertising and conferences).
Groundwork begins about three months in advance of a franchise roll out. Preparation for the recent 40 Under 40 was typical: The process began with a meeting of representatives from publishing, print, media relations, web, and events. This group developed a theme and hatched plans to roll it out to the target platforms.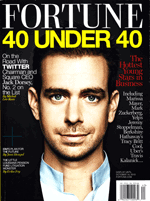 As a practical matter, print might be viewed as anchor and springboard for the other platforms. "The magazine does all the usual magazine stuff," says Serwer. "We ask 'What would be a great lead article? How many sidebars? What are some other articles? Charts?' Then we plan to do a walk up: Leading up to the issue we may do a reader's poll with questions such as 'Who do you think are the top 40 under 40?' We may poll CEOs and the previous 40 under 40." In short, the magazine does anything it can to strengthen reader investment before the franchise rolls out.
The digital leg on the franchise stool is more than just a simple list or article posted on the web, notes Serwer. "We do video, photo galleries, sidebars–a lot of incredibly creative stuff that works on the web or tablet." An attempt is also made to get the involved writers and editors on TV.
The third platform comprised of live events, notes Serwer, can be tricky. They exist at three levels, each distinguished by a characteristic investment of time and money. "First, you can just throw money away–have a party," he says. "Sometimes that's the right thing to do. Then, at a higher level, you can have a live event sponsored by someone. That's easy: You get a bunch of beer and a company spokesperson at the event."
The third level of event demands more planning. "The next step is a real conference event for which people pay to come," says Serwer. "While that is much more difficult, you start being able to have two streams of revenue: One is from attendees, who are like magazine readers; the second is from sponsors, who are like advertisers."
As a practical matter, it can be smart to start each franchise on the first level and climb up. "We like to build events," says Serwer. "You start small with a party and build to an event with paid attendees."
The new editor
"Magazine, digital and conferences – I feel good about having the three legs," says Serwer. Maybe so, but synchronizing so much activity can be quite a challenge. Today's magazine environment is characterized by layers of complexity unheard of in the days when an editor's job meant nothing more than guiding writers and producing copy.
While digital transformation is among the new challenges demanding attention from editors such as Serwer, he cautions against getting ahead of readers. "It is so vexing and curious and changeable in terms of the continuum of readers who want print versus digital," he says. "Let's take women's magazines as an example. Our magazine In Style is putting out its biggest issues ever. Why? If you ask a reader 'would you buy this magazine if there were no ads?' The reader would say 'are you kidding? Of course not. We want the ads. They are part of the experience.' The advertisers say halleluiah. So are you going to say 'we have to convert all our readers to digital and close down our print edition?' No. I don't think you have the same urgency to move to digital at all."
Many women's magazines, these comments suggest, might be positioned at the lower end of the digital transformation continuum. If newspapers are on the upper end, business magazines find themselves knocking about somewhere in the middle. "We have a tech savvy readership," says Serwer. "Many of our readers have several smart phones and other mobile devices. They are trying everything all the time. So our first instinct was to rush into digital willy-nilly, and we have. Our tablet app is fantastic."
The new reader
Even so, says Serwer, a pure digital play for Fortune would likely be a losing gamble. "We discovered, like others, that consumers have been a little slower to change over to tablets and apps than we had thought. That's because magazines are a different experience. People are staring at screens all day long, to the extent that a magazine is a respite. That is probably a really important point of differentiation. Our magazine is vital information but is also something you can look at to provide some sort of break from work even though it is about work. It is offering long form journalism where you can lean back."
In light of this reader behavior, Fortune is refraining from digital overreach. "We realize we need to take it easy a little bit," says Serwer. "We need to go strong but not lose sleep over the fact that our readers are not converting as fast we anticipated. The reason is that they still like the magazine."
So who is the digital reader? An individual pretty similar to the one for print—although there are some subtle differences. "The people arriving at the digital platform are not as different as you might think from those reading the print magazine," says Serwer. "Yes, they are younger and there are more women. But they are still aspirational business people. They want to join the Fortune 500 companies or work there or do business with them.
"Our typical reader is a 50 year old guy getting on a plane at the airport," adds Serwer. "But we also want to get the 26 year old Indian woman PhD at Stanford who works at Google. I think she is increasingly a reader and it's probably true that she is more digital."
All such digital talk refers primarily to the tablet, and that device presents magazines with a challenge that is still being defined. "This is still the early days as far as the tablet goes," says Serwer. "It provides an experience which is as distinct from that of a web site as the magazine is from live events." Readers can get Fortune through all of those channels, as well as mobile. "Getting information on mobile through social media is how people are increasingly getting Fortune," says Serwer. "People read stories on Facebook and on Twitter and LinkedIn and come to the web site that way."
The new journalist
The transmogrification of the media landscape challenge writers as well as editors. "Our journalists have to be multimedia and multitalented people," says Serwer. "My ideal journalist is someone who writes, edits, does social, does TV, and can host live events. And especially does great long form journalism. Very few people do all those things but if I can get people who do three of those well, that's great."
The danger, of course, is burn out. The risk can be particularly high with a magazine such as Fortune, where a staff of scores of journalists is going up against far larger competitors. "We compete against Bloomberg and Dow Jones and Reuters– companies with thousands of journalists," says Serwer. "So punching above your weight is very important. We don't have the option to let six people sit around all day and talk about some story they might do. We have to go out and get it."
These comments inspired moderator Husni to ask if today's journalists are being overloaded with responsibilities. "I think about that every second of the day," says Serwer. "It's really tough. I am scared of burning them out. People are being pulled in so many directions. It requires a lot of management; a lot of balance. And particularly for our tech journalists: They are being bombarded with new social media, new platforms and new things to try. And there seems to be a new tech website every week."
The new company
For Fortune, the shifting media landscape is further unsettled by yet another seismic event: the spin-off of Time Inc. from Time Warner. "That adds another level of complexity which I hope none of you have to go through while simultaneously running your magazines and your web sites," says Serwer. "It's like playing a game of 3D chess against Mr. Spock."
On balance, the spinoff is a net positive. "We have been a little tail on a big media company dog," says Serwer. "We sent all our money back up to Time Warner and our CEO took that money and invested it into the movie business and HBO and Turner which was probably wise from his perspective because he could get a higher return. But it meant our magazine company was somewhat starved for capital and had our hands tied that way. And as 10 percent of Time Warner we would not necessarily get the attention and love we needed."
Too, as a joint venture Fortune has not been able to devote the concentrated attention requisite to building a digital brand. "We have had a joint venture with CNN so that Fortune has been under the umbrella of CNN Money," says Serwer. "That has been good on the one hand because it has provided us with a lot of traffic and a lot of dollars that follow that traffic. On the other hand our brand has been very sublimated in the digital space so if you find a story it will say CNN Money and maybe it will say Fortune somewhere."
---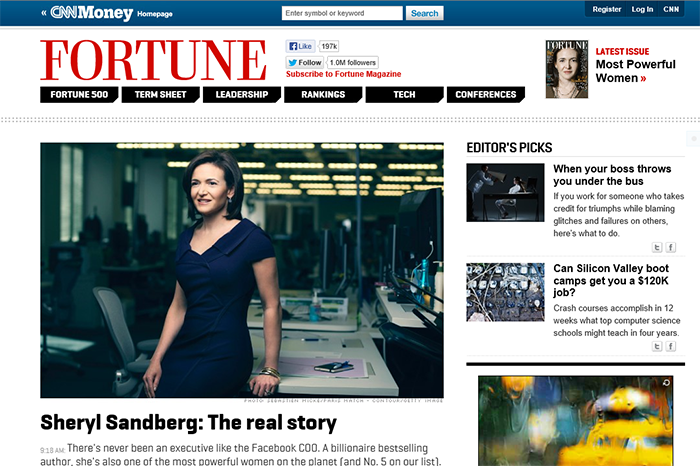 ---
That kind of brand diffusion is not optimal, says Serwer. "Putting together a joint venture and slapping a name on it is not really brand building." Post spinoff, the magazine will be able to invest more directly in its brand. "I am very excited that we will be able to build out our web site and digital business."
As all of the above proceeds, Fortune will be making its decisions under a watchful public eye. "We will be an independent public company," says Serwer "That's slightly daunting. You can make the argument that it's a good thing to be private during the transition because it requires a longer time frame and the public markets are usually not so good in being patient that way. On the other hand it will be great to have the visibility and discipline. You can suffer from a lack of discipline. We will be under the microscope and scrutinized and we will be held accountable to our decisions."
The road ahead
If all goes well in its break from the past, Fortune will come out the other side as a stronger entity. "I want the spinoff to go well," says Serwer. "I want to make sure we have the capital to invest in our web site and the wherewithal to flow through."
Serwer anticipates that successful brand building will position Fortune for long term health. "Sure, we are going to be around this year and next, but what's it going to be like five years from now? I want to make sure that when I leave the position of editor Fortune is a strong, sustainable, thriving journalistic enterprise. That's my most important job."
Story and photo by Phillip M. Perry
Written October 11, 2013